Automated Gates Service in Chobham
Taylormade Automated Gates in Chobham for the residents and local Businesses in the area.
As the name indicates, we're a family business and so we pride ourselves on creating and maintaining relationships
with the residents and businesses in our neighbourhood.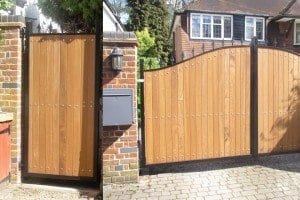 Whether they are for security reasons or made to compliment the feel and style of your property we have it covered.
We are able to craft a uniquely Tailored range of Automated Gates in Chobham whether it be for a contemporary taste of traditional design and provide you with the best quality product to meet your budget and requirements.
We do so by delivering a quality, affordable metal work service. We're experienced and equipped enough to take on the largest jobs and most intricate metalwork but on the
other hand – no job is too small so don't delay, get in touch today!
How we work with your Automated Gates enquiry
1. A Response
As soon as we receive your message, whether by phone or by email, we will try our upmost to get back in touch within 24 working hours to discuss your Automated Gates project.
2. A Site Survey & Discussion
During the response, we will ask you a series of questions in regards to the style you wish your gate, balcony or railings to be in. In some cases, we will need to carry out a site survey in order to finalise a quote.
3. A Quote
Once we have all the details we need we can give you an accurate quotation for your Automated gates project.
4. A Thorough and Quality Job
Assuming you decide to proceed with our quotation, we will work hard to complete the work to your expectations, within the agreed timescales and leave the working areas looking cleaner than before we started. This is why our reputation with Chobham customers is exceptional!
✔ Metal Gates
✔ Iron Gates
✔ Electric Gates
✔ Remote Control Gates
✔ Metal & Wood Gates
✔ Bespoke Metal Gates
✔ Stainless Steel Gates
✔ Automated Gates
✔ Painted Metal Gates
✔ Metal Double Gates
✔ Galvanised Metal Gates
✔ Automated Gates in Chobham